Night Creams – Would your skin benefit from using one?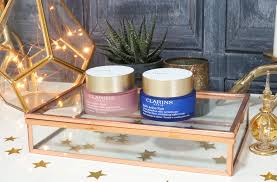 During my last two blogs I've written in depth about moisturisers. Feel free to take a read if this skincare staple is new to you. They are an essential part of looking after your skin as they have many benefits, including:
Help to protect the skins natural barrier.
Keep it hydrated by maintaining our natural moisturising factors.
Prevent moisture loss from our skin.
Soothe irritated skin.
Fight against free radical damage which can cause fine lines, a break down in collagen, blemishes and pigmentation.
Smoothing the skin's surface.
Providing a perfect base for make up to be applied so that it stays put all day.
All of which can improve the appearance and feel of our skin.
Many brands not only produce day time moisturisers for different skin types but also evening moisturisers.  More often than not they are called night creams and they are designed to be used at the end of our evening skincare routine before going to bed.  I've mentioned before about how I'm a fan of starting my evening routine a couple of hours before going to bed. This means that through cleansing my face I'm getting rid of any make up, SPF (sun cream), dirt, pollution, sweat etc before treating my skin with other products. I usually, but not always, finish with a moisturiser. As I do all of this way before my bedtime the products have a chance to penetrate into the skin so that my face doesn't stick to my pillow! It also means that by the time I go to bed I can feel if my skin needs any more hydration, in which case I can pop a little more product on.
Our skin is repairing all the time, the difference at night is that it isn't being hit left, right and centre by dirt, sunlight, environmental aggressors etc. and having to protect us. Therefore it can go into full repair and regeneration mode by increasing blood flow and cell turnover, rebuilding collagen and repairing damage from UV sun exposure.
Does everyone need a night cream?
I've said before that we generally don't need lots of moisturisers. There are other steps in our skincare routine that warrant a selection of products i.e. toners/acid toners, serums etc. We should choose a moisturiser that is suited to our skin type, so even those with an oily skin can benefit from the right moisturiser and quite often this can be used day and night.  However, there are instances where a night cream would work really well and be a valuable part of our evening routine. Both day and night creams are purposely formulated differently.  In short, day creams protect the skin whilst night creams work hard to repair and regenerate and you'll normally find that day creams are generally lighter in texture than night creams, which tend to be richer.
 If skin is particularly dry, dehydrated, uneven in texture, uncomfortable or there are real concerns about signs of ageing then a night cream can be a great addition. It's important to note that as we get older our skin's ability to retain moisture reduces, so our need for moisture increases. It can also help induce repair by amplifying cell turnover. Be guided, in the first instance, by how the night cream feels on the skin, if it just sits on the surface it is probably too rich and may clog pores which can result in blackheads and other blemishes. It should sink in and leave the skin feeling comfortable. Don't forget to apply cream to the neck and cleavage (décolleté) area too. There's no point in having a lovely looking face, but a neck and chest area that doesn't match. Any excess product can be massaged into the back of the hands. Waste not want not I say!! However don't apply a thick moisturiser around the eye area as this can result in puffiness which is not a look most of us are aiming for when we wake up in the morning! A good cream can also reduce that droopy creased lines look we might get after several hours in bed (a silk pillow case can also reduce this from happening). Bear in mind that if you exfoliate your skin regularly any product that is subsequently applied will sink in and work far more effectively than if you don't. You'll definitely get more for your money as you won't need to use as much product each night.
If you are really not sure if your skin would benefit from a specific night cream you can do a little experiment. Take some time to establish your skin's night time needs. Cleanse your face in the evening and go to bed bare-faced i.e. don't apply anything else. When you wake up, go straight to a mirror in good light and look at your face. Do you have any dry patches, does your skin feel sensitive, is your complexion a little dull, do you look a bit deflated or drained? If this is the case you may benefit from something which boosts cell turnover, plumps or really feeds the skin with nourishment and much needed moisture. If your skin feels oily and congested on waking you may benefit for something skin balancing. Don't think that night creams are only for night time use either. It is possible that, if your skin is particularly stressed, sensitive, parched, these technical formulas can deliver an intensive hit of nutrients whenever needed. The important thing to remember is that our skin can go through cycles and changes and therefore it's advantageous to have a couple of options available depending on what your skin is like, what season we are in, your hormones, stress levels etc.
Here are a few night cream options available at Perfumery and Company 
Clarins Super Restorative Night Cream
Suitable for all skin types (I think this may not be enough for really dry skin though)
This cream is specifically targeted for those of us who are experiencing hormonal changes as we get older. I would say that if your concern is loss of firmness, pigmentation spots and dehydration give this cream a go. Montpellier Rock-rose works to reduce the appearance of dark pigmentation spots and evens out the skin tone. Harungana extract, also known as a healing tree in Madagascar, replenishes the skin to prevent it from sagging and has been proven to increase firmness. Ginkgo Biloba brightens the skin giving it a rosy glow. Shea Butter is such a fantastic ingredient as it provides a lasting hit of hydration and nourishment.
I certainly noticed my skin glowing on application and the next morning. It is a beautiful lightweight cream with a delicate floral fragrance. It's been a delight to apply to my face, neck and décolleté at night time.
Clarins Multi-Active Nuit – Targets fine lines, revitalising night cream
Suitable for normal to dry skin (I think this is fair, it would be too heavy for an oily skin type)
If you are concerned about noticing the first signs of your skin changing and getting older i.e. fine lines and lack of radiance perhaps due to tiredness I would suggest this cream. Golden Poppy extract revitalises the skin (which is great if you've not had a lot of sleep!) Organic teasel extract promotes the production of energising molecules which help fight against free radicals, therefore helping to protect the skin and boost glow. You will also get a lovely dose of hydration to maintain skin health.
I know fragrance isn't an important factor in skincare to everyone but I like products to smell nice, unless of course they are fragrance free and I use plenty of these too. This cream has such a comforting soothing fragrance that reminds me of suntan lotion and being at the beach. This is slightly richer in texture than the Super Restorative Night Cream but sinks in to the skin effectively.
 Clarins Extra-Firming Nuit – Wrinkle control, regenerating night cream
Suitable for all skin types
This cream has been designed for skin which is experiencing a loss of firmness and the appearance of wrinkles.  It will also keep hydration levels high. Kangaroo flower plumps and helps to firm the skin whilst Moonstone Hydrated Silica encourages the regeneration of skin cells for a healthy radiant complexion. It's a lightweight cream that is easily worked into the skin so should work well with oily/combination skin types and has a delicate fresh woody fragrance. Apply as your last skincare step before bed.
If you are local to Perfumery and Company pop in to check out their night creams or browse through their website (Clarins can be ordered on the phone).
 N x