Brand Spot Light : Meet The Organic Pharmacy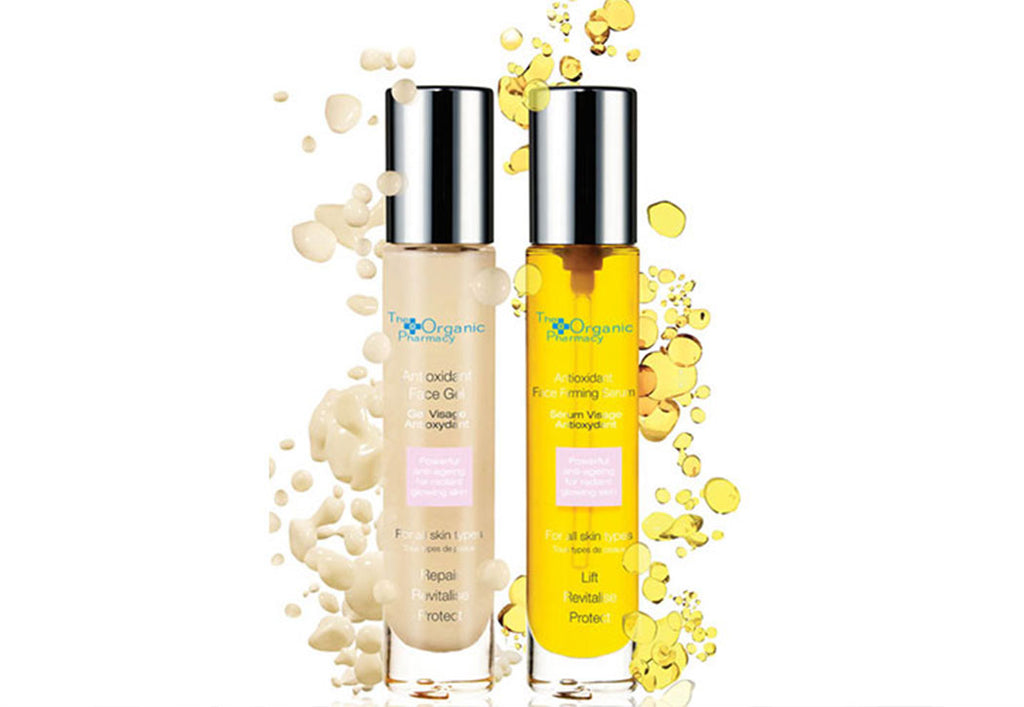 My first experience of The Organic Pharmacy was seeing a shiny new store appear in Chelsea, West London, about twenty years ago. I didn't venture in but how I wish I had! This was 2002 and was their flagship, their first store which has now been joined by outlets in Kensington and Primrose Hill. This is alongside select retailers such as Perfumery & Company, Selfridges and Fenwicks. Plus their products feature in spas including The Four Seasons Park Lane Hotel. They also sell to forty five countries all of which are supplied by their factory in West London. Now, I fully appreciate the brand which was the first pharmacy to offer all things organic and I love so many of their products.
Their spas, in the three London locations, are abundant with different treatments, from waxing to massage, non-invasiveadvanced facial treatments to food intolerance testing and so much more. They even offer courses to learn some of the treatments that they provide.
Last year they celebrated their twentieth anniversary and co-founder Margo Marrone, a pharmacist and homeopath, created the company with her then husband, and she has seen the brand grow and develop. She believed back in 2002, when they founded the company, that how we live has a direct impact on our health. She was totally focussed on healing the mind and body through natural and effective products and treatments. They are a 'one stop shop for health and skincare' as they also offer a fully stocked homeopathic and herbal dispensary, have skin clinics and spas.
They are a brand that marries performance driven organic ingredients with an emphasis on treating the whole person, of which topical treatments are a staple. All of their ingredients are of the highest pharmaceutical and cosmeceutical standards. Organic ingredients are used wherever available and everything is ethically sourced. Absolutely nothing is tested on animals.
Within their laboratory and factory in West London they describe how they combine 'nature and nurture' to get the best out of the ingredients they use. For example extracting the most potent part of a botanical to create the best formulation. When it comes to product testing their mantra is 'prove and improve' to ensure that everything is independently tested to clinically confirm the short term, medium term and permanent benefits of each product before it leaves the lab.
They are a conscious brand, keen to make a positive impact on the environment. They do this by always practicing fair trade, using natural resources responsibly, ensuring production and processing is environmentally friendly and providing recyclable and refillable packaging. But the list goes on and they work really hard on this. I love how they are a brand committed to giving back too. For 2023 they are supporting 'Women Supporting Women' which is an initiative that is part of The Princes Trust #changeagirlslife campaign. Here they are able to fund the support to nurture, empower and inspire vulnerable women to build a better future.
They offer a holistic approach to their customers - providing skincare, body care, make up, health solutions including supplements, spa treatments and training facilities plus their charity work. I find this pretty damn impressive.
Perfumery and Company have been chosen by The Organic Pharmacy to stock their products. Venture in if you are local or take a look at their website to see what products they have and receive some expert advice. The guys really know what they are talking about.
I've been testing some of the products for several weeks now and have used some others for a much longer amount of time. Here are my thoughts on each one.
Carrot Butter Cleanser
For all skin types
I've used many cleansing balms and this one didn't disappoint. It's 99.9% Organic, has the most invigorating yet soothing scent. We've got beta-carotene from carrot, rosemary, lavender and calendula to thank for that. It is a cleanser you could choose to not only clean the skin, but remove make up (including eye make-up). It balances and decongests the skin whilst boosting the skins circulation. Apply to dry skin, massage in and remove with a damp face cloth. It's a real pleasure to use.
Hyaluronic Acid Serum
For all skin types
This is a vegan 95% organic lightweight, easily absorbed serum. It works wonders on parched skin by delivering a hit of hydration to lock in moisture. What it's doing is effectively plumping the skin cells. This enables skin to appear more plump by reducing the appearance of wrinkles. One full dropper is enough for the face, neck and décolleté every morning and evening. It sinks in easily and doesn't leave an oily residue. A personal favourite of mine!
Stabilised Vitamin C Serum
For all skin types
91% organic and vegan friendly. This light serum successfully brightens and evens skin tone. It gives a lovely glow. It's a great choice for anyone who's noticed a lack of radiance, dull complexion, some pigmentation or you just want a great antioxidant to help protect the skin against free radical damage. Apply one full dropper every morning. The organic Pharmacy suggest every evening too but you may decide to use a different serum instead. Another personal favourite of mine!
Antioxidant Face Gel
90% Organic
For all skin types
This lightweight gel boost collagen production, minimises the appearance of pores and tones the skin. Clinic results confirmed that it produces antioxidant activity which makes it an incredible protective serum against environmental aggressors. It has a subtle herby fragrance consisting of Rose Hip, carrot, lemon and ginseng. For optimum results The Organic Pharmacy suggest following this with the Antioxidant Face Serum. Use just in the morning on cleansed and toned skin or morning and evening depending on your skins needs.
Antioxidant Face Serum
For all skin types
98.7% Organic
Clinical results confirmed that this also produces antioxidant activity which is what many of us want from a serum. So not only will this help to protect against environmental stress, it will help to gradually reverse signs of sun damage, tone the skin and give the most radiant glow. It's been proven to be fifty times more potent than Rose Hip alone. This is impressive. And then imagine the uplifting scent of orange and grapefruit as you use this in the morning! It's heaven! This is definitely another one of my favourites. Use morning and/or evening after the Antioxidant Face Gel for best results. However, you could mix and match depending on your skins needs. I love this product!
Skin Rescue Serum
For dry and sensitised skin, eczema, psoriasis
98% organic
Think of this as your first aid serum for skin that needs calming, soothing, healing and hydrating. It's a great serum for eczema and psoriasis. Once applied it restores some elasticity to the skin making it more comfortable and adds a layer of protection against external aggressors and the potential of water loss from within the skin. Apply between two to four drops up to one dropper full each morning and evening and whenever it's needed. A light consistency which doesn't sit heavy on the skin.
Four Acid Peel
Suitable for all skin types
90% organic and vegan friendly
This is a serum that gently exfoliates and brightens the skin to reveal a smoother complexion. It helps to fight blemishes and boosts the radiance of the skin. No need to wash off and no exfoliating particles. A combination of plant derived acids naturally dissolve dry dead skin cells including glycolic, lactic and citric acids. Super easy to use and a lovely lightweight texture. Can be used once a day but I would start off with a couple of times a week. We should be using sunscreen every day and even more so if we have used exfoliating products that contain acids. This is because they may make the skin more sun sensitive.
Retinol Night Serum
Suitable for all skin types
93% Organic and suitable for vegans
This is The Organic Pharmacy's retinol offering for targeting signs of skin getting older i.e. fine lines, wrinkles, reducing enlarged pores. It speeds up the renewal of new skin cells. It contains an encapsulated retinol which means that the retinol is protected from degradation, increasing its stability and improving its delivery to the skin. The Organic Pharmacy suggest using one full dropper of this light textured serum on the face, neck and décolleté every night to clean skin. I'd say introduce it a couple of evenings a week, then every other evening and then every evening. This serum works well being applied after the Four Acid peel (which aids better penetration of products). But start by using them on different evenings and always wear your sunscreen the next day because retinol can make the skin sensitive to the sun.
Honey & Jasmin Mask
To Firm & Moisturise
Suitable for all skin types but particularly dry, dehydrated or stressed skin
This rich and luxurious mask is 67.15% organic. It has a comforting creamy texture containing honey, squalene and aloe which all help to nourish, soothe and hydrate parched skin. I personally love this product. Not only can it be used in the traditional way where it gets washed off after twenty minutes but a thin layer can be applied before bed and left on whilst you sleep. Your skin will feel like it is cocooned in the softest blanket. It has a light comforting powdery fragrance.
Enzyme Peel Mask
To Brighten & Exfoliate
For all skin types
This light cream/gel mask is 71.6% organic and suitable for vegans. It contains a cocktail of Vitamin C, passion fruit and lactic acid. It has a fresh and fruity mouth-watering fragrance. Due to the lactic acid enzymes which are naturally exfoliating you may experience a slight tingling when it's on the skin but this is completely normal and shouldn't be uncomfortable. The ingredients are nibbling away at the dead skin cells which in turn encourages cell turnover to increase. This helps to even out pigmentation and brighten a dull complexion. Because of the enzymes present, you won't find any physical particles in this product.
Purifying Seaweed Clay Mask
To Purify & Rebalance
Suitable for oily, combination or congested skin
Containing spirulina, sage and eucalyptus this 58.7% organic aromatic mask is perfect for balancing the skin. It's a cross between a cream and a very light paste in texture, very easy to apply and suitable for vegans. The clay means that the mask dries on the skin, helping to draw out impurities. But unlike some clay based masks it's very easy to remove. The seaweed works its magic on any redness whilst Vitamin C restores a lovely glow. A brilliant product!
Tinted Beauty Cream
Suitable for all skin types
Certified 100% Natural
This is a sheer tinted cream that will instantly give skin a dewy radiant glow. It contains lots of skincare ingredients to treat the skin such as hyaluronic acid to hydrate, witch hazel to minimise pores in addition to colour adapting technology and light reflecting particles to give the skin glow. This isn't a foundation, it's a sheer tint with a very natural finish. It blurs lines and pigmentation and is a quick way to brighten and even the skin without applying heavier make up. I really like it.

Detox Body Oil
All skin types
This has such an invigorating blend of oils including juniper, fennel, eucalyptus and rosemary. Perfect for application in the mornings to deliver a shot of energy and moisture. This lightweight oil has been clinically proven to increase the skins moisture and elasticity after being applied once a day for a month. I'm always a bit dubious about products that claim to improve tone but I've definitely noticed the elasticity of my skin improve. Either apply directly onto damp skin after a shower or, as The Organic Pharmacy suggest, spray directly onto your dry body brush and then apply in long upward sweeping strokes towards the heart before showering.
10 Day Detox Kit
This is a complete programme of nutritional supplements along with a very thorough guide and meal plan. It's a ten day kit that aims to soothe the digestive tract, support drainage and liver function and metabolism of carbohydrates and lipids. It also helps to protect cells from oxidative stress. If you are looking to reset your body - perhaps you feel sluggish, tired, bloated, constantly craving sugar etc. then consider this kit. It's a well-balanced detox plan where you actually eat! You don't have to survive on juice, air or dust! This kit was awarded a CEW Beauty Award as voted for by industry professionals and experts. These are recognised as one of the most coveted awards in the industry. They recognise the 'best in class'. So this programme is something to take note of.
On opening the box you will find four supplement bottles - Detox, Phytonutrients + MSM, Superantioxidants and Essential Fatty Acid +B Complex. Plus a detailed guide covering how the detox works, sources of toxins, what to expect from the detox itself and the meal plan. I'm not usually a fan of 'detoxing' but I would say that The Organic Pharmacy's plan is not like a traditional detox. Following this plan myself has helped me to refocus my own eating habits and I do feel better.
So there you have it. My aim is that you've now got a sense of what The Organic Pharmacy is all about (if you didn't know about it before) and why it's a brand stocked by Perfumery & Company. I hope you've also found my product thoughts and recommendations insightful and useful. I've featured fourteen items here but there are so many more to choose from. There is indeed something for everyone.